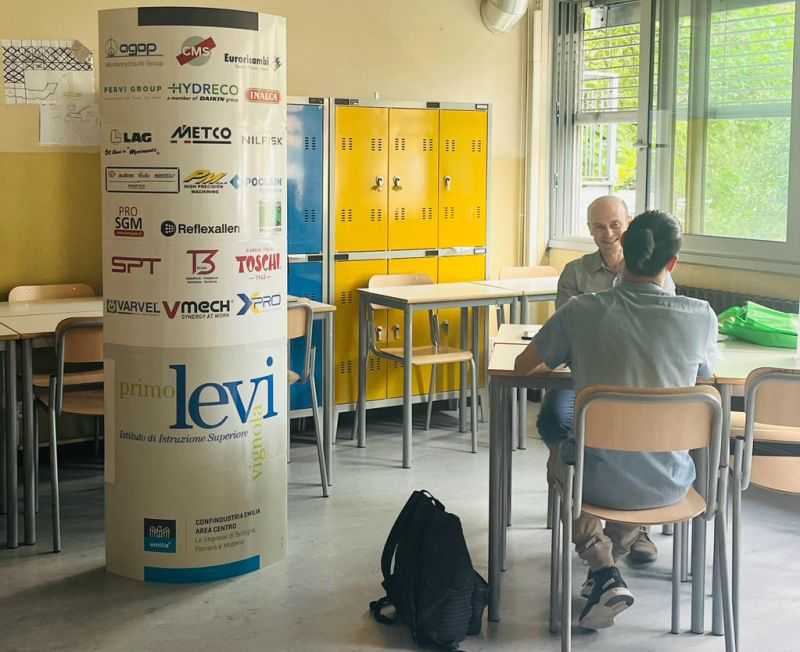 Hydreco Hydraulics meets the students
Training and support for new generations to start working is fundamental for the Duplomatic Group.
Investing in young people who finish school and begin to face the challenges of work is a fundamental aspect of social responsibility to ensure a promising future both for individuals and for the community of the local territory.
Hydreco Hydraulics Italia (Vignola, Modena, Italy) has always been committed to supporting local schools, confirms its focus on providing support and opportunities to young students, working in close collaboration with training organizations by offering traineeships and positions for internships, curricular internships and insertion into the world of work.
For Hydreco the last in order of time among the many initiatives in favour of young students, graduates of technical and professional studies, was the participation last Wednesday, May 31, at the Job Orientation Day at the Istituto Superiore P. Levi of Vignola (Modena).
The event offered students the opportunity to come into direct contact with different manufacturing companies in the area. Through interviews, the young people had the opportunity to discover the various business realities, learn about the activities carried out and the professional profiles required. It was a moment of comparison and learning, which allowed students to broaden their perspectives and get a better idea of the career opportunities available in the manufacturing sector and companies to get in touch with young talents.
"This type of initiative is of fundamental importance because it provides boys and girls with a real overview of the world of work and helps them understand the skills required to enter certain sectors, facilitating their integration into the labour market",said Michele Guiati, Managing Director, Hydreco Hydraulics Italia. "Commitment to young people is an investment in the future, as they are the protagonists of progress and innovation. Hydreco Hydraulics Italia is an example of how the private sector can actively contribute to the training of young people, broadening their horizons and opening the doors to professional success", Guiati concluded.
Hydreco Hydraulics Italia collaborates with local schools to support events and initiatives, such as the Job Orientation Day, to create synergies between education and industry, thus contributing to the development of a more complete and effective training system.
Photo Credit: Confidustria Emilia Centro
< Back to News