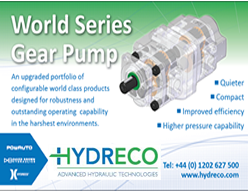 Developments in Gear Pump Design, Technology, and Manufacture
HYDRECO has been involved in the design and manufacture of high efficiency, robust, reliable gear pump products for many years. The company has progressively developed both existing product as well as designing new product to suit an ever demanding market while recognising the need to meet market pricing expectations.
This trend has continued with the current development program for the World Series Pump range where a number of factors were considered, including pressure rating, material selection, reliability, serviceability, and manufacturability.
This was essentially a 'clean sheet' design, with respect to all of the usual 'given' requirements within a gear pump such as port types, flange types and shaft types. Previous proven features from existing pumps were used where appropriate and further developed where applicable.
One of the main customer facing features of this pump was the higher pressure rating, the specification being pressures of up to 350 bar. This is obviously validated by a stringent series of endurance tests to ensure that the product is fit for purpose.
From our current business we already know that we have product that will succeed in the most demanding application where many competitor products will fail and it is this heritage that we indent to develop and exploit.
Another feature that HYDRECO has been a leader in under its heritage David Brown Hydraulic range, is the creation of gear pumps which generate low levels of fluid borne noise and again this feature is central to the design of this new World Series Range of Pumps.
Importantly also, is volumetric efficiency, and no compromise has been made in our continuing desire to continue to deliver one of the most highly efficient gear pumps on the market today and critical analysis of the relevant internal components was necessary in order to achieve the desired requirements.
Although using known good features from existing products, central to the design process was critical consideration of all aspects of design, materials, treatments, and manufacturing processes.
Of prime importance to the company is to make a product available to the customer which satisfies a respectable working life in the harshest environments at a competitive price, while satisfying the increasing demand to provide product which will work at increasing pressure levels.
The full range is available in 5 frame sizes ranging from 12 cc/rev through to 240 cc/rev, with the usual ability to build single and multiple pump assemblies with same or mixed frame sizes.
Versatility here is the key so that where possible we are able to satisfy the vast majority of customer needs from a standard range of components. A key attribute in the design process was ease of installation and maintenance, as is the ability to change pump rotation on the rare occasions when this becomes necessary.
In summary, the World Series Range of product is designed today, for today's customers and today's markets, to satisfy today's ever increasing demanding requirements across a wide range of applications.
< Back to News