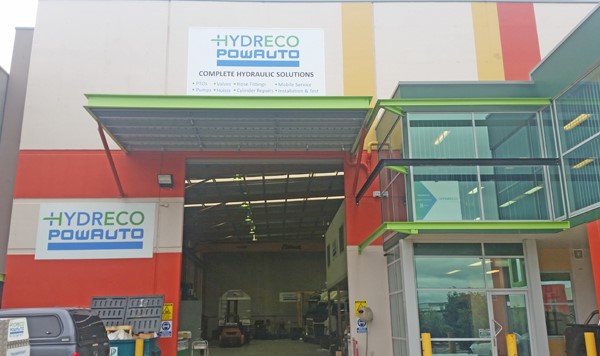 Hydreco Hydraulics Australia benchmarks a new level of service capability
Hydreco Hydraulics NSW branch has moved into a new facility in June 2016 and following a period of settling in have reconfigured the layout to set a new level of service capability for the Transport Hydraulic fit up industry.
The business has moved from the back streets of an ageing industrial area to a recently developed mainstream hub of likeminded businesses, exposing Hydreco to many existing and potential customers.
Having the capacity to fit three (3) Prime Movers and two (2) B-Double or Semi-Tippers into the under-cover workshop, supported by the 10-Ton Gantry Crane, for safe heavy lifting.
The machine shop provides the capacity for Hoist and Cylinder Repairs, Manufacture of Special Components, Mounting Brackets and Cylinder Honing.
This facility and the branch staff have demonstrated a significant improvement in service capability which has opened numerous opportunities for quoting and accepting multi-vehicle set-ups and reduced downtime for our customers. Our relationships with the truck dealers, Volvo, Scania, Mack, Kenworth and the like have also strengthened as they recognize the value in our offering of product, turnaround time and capacity.
With staff of four service fitters, two on-site service vans, workshop supervisor, spare parts sales and branch administration reporting to the Branch Manager, this facility offers over 1,200 square meters of dedicated workshop facilities. The new premises are equipped with an overhead crane, machining and repair facilities, having a 10-meter height, making it an ideal premise for complete 'wet kit' installations and service capability.
Hydreco Hydraulics Smeaton Grange provide sales and service support for all Hydreco products as well as a range of transport hydraulic accessories, filtration, valves, hydraulic oil, hose and fittings.
"Hydreco Powauto is now able to offer its customers complete wet line kit systems for any heavy-duty tipper, supplied and fitted through our National Distributor Network throughout Australia and New Zealand,"
"With the growing strength of Hydreco Powauto and the intention to continue investing in future growth, the business is well positioned to respond to customers' total hydraulic needs in the future."
Hydreco Powauto, 28 Bluett Drive, Smeaton Grange, NSW, Australia
Telephone: +61 2 4647 6577
< Back to News