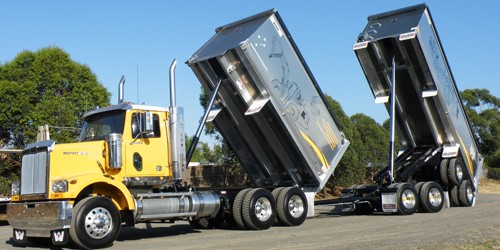 System Solution Supplier - Hydreco Powauto Australia
Well known for its PTO and pump equipment, Hydreco Powauto has invested heavily to expand its portfolio with reliable equipment in order to provide a total hydraulic solution to its customers. Hydreco Powauto has re-defined its business, making significant investments to strategically move it from a component supplier to a total hydraulic systems solution provider. The investment, adding a vast array of highly engineered and innovative products to its portfolio, has been very successful.
To supplement the longstanding heavy-duty vehicle product mix, the Hydreco Powauto team has developed its core range with additional PTO, pump and valve options, as well as designing, testing and developing a range of telescopic front of body hoists and investing in a full range of hydraulic oil tanks.
For the light-duty tipper market, Hydreco Powauto has extended its product mix, adding to the range of vacuum PTO's, low displacement gear pumps, hydraulic power packs, electric control tank valve assemblies and a full line of accessories, this allows the company to provide full systems to its customers.
Hydreco Powauto is committed to supplying its customers with leading edge products that are designed and produced to the highest quality, reliability and performance standards available in Australia. However, the company doesn't just supply the products, they are also supported by a strong and consistent brand which are supplied through its extensive national branch and dealer network.
< Back to News