New Product Release - PA8600 Series PTO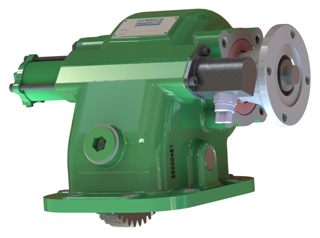 Hydreco is pleased to introduce the new heavy-duty PTO for the Eaton/Paccar Endurant transmissions. This PTO joins the already existing PA8503 in the Hydreco Powauto offering for the Endurant gearbox.
This power take off has a high torque capability (up to 600Nm) and large capacity taper roller bearings suitable for the high demands made by some applications, e.g. blower applications and moving floor systems.
Like the PA8503, the PA8600 range employs the same one gasket fitment; ensuring installation costs are minimalised by make mounting an easy task. The PTO still retains the access hole for the final confirmation of the correct backlash setting.
To provide flexibility in application the PTO has the capability of dual outputs. The more common been the rear facing 1410 flange (33 output) with a forward facing Powauto pump mount (08 output).
< Back to News