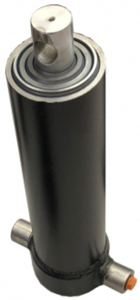 UBD Series Underbody Hoists
Hydreco is pleased to announce the release of the new UBD underbody telescopic cylinders. This new range is the replacement for the UBE bottom trunnion hoist, utilising the identical construction of the sister UBC range.
Like the UBC, the UBD hoist now features a blanked final stage that negates the need for bleeding the hoist at installation, improving installation times, and lowering costs. The use of harder and higher grades of steel create a more durable hoist for the Australian market.
Similar to the UBC range, the diameter of each stage of the UBD hoists have been increased, resulting in greater thrust capacity from each hoist. With careful attention to guide ring and support ring widths, the rigidity of the hoists across the entire range of strokes has improved.
While making all these changes, we kept in mind the replacement and OEM market needs by keeping the foot mounts and top rod end the same dimensions as we have used on the UBE range.
< Back to News