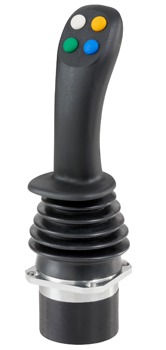 Mini EPVJ On-Off Joystick
Among the wide variety of electrical controls for all kinds of mobile applications, the new born Mini EPVJ Joystick made in Italy features a new technology based on reliable REED magnetic switch (neodymium magnet) and four ON-OFF functions as standard.
Mini-EPVJ version is available to fit smaller space for armrest and console mounting, preserving strong mechanical structure and high reliability.
This is a solution for tailor made applications in agriculture (small tractors for vineyards, orchards, … and fruit/vegetable pick up machinery) and forestry (i.e. firewood processors).
Electric and magnetic technology for a longer life and perfect operation in the most demanding environment (outdoor conditions).
< Back to News