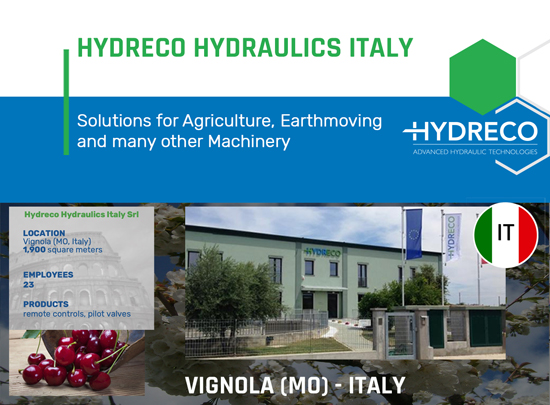 Italy, the land of engineering and manufacturing.
Hydreco Hydraulics Italia is located in the center of one of the most industrialized areas of Italy where Made in Italy is breathed together with the air and scents of nature.
Hydreco Hydraulics Italia in Vignola (Modena province) has been established in 1977 by the UK parent company Hydreco Hydraulics Limited. While the beginning was mainly "sale and service" of the products manufactured by the parent company in UK, the Italian company progressively started its own production of hydraulics joysticks, with the full control of design and manufacturing. Over the years the product portfolio widened to the electric and electronic joysticks.
To date, Hydreco Hydraulics Italia designs and supplies a wide range of solutions, including hydraulics joysticks and pedals, supply units, multifunction ergonomic handles, electric/electronic joysticks and pedals and is also able to supply machine control systems based on the Can-bus protocol, both from the hardware and software point of view.
Hydreco Hydraulics Italia is strongly oriented towards its territory, as well as being part of an international group: the company is an important supplier for the agricultural and earthmoving machinery sector, a fundamental industry in Italy and worldwide.
Main applications in agriculture include vehicles or specialized accessories, such as harvesting machines (olives, hazelnuts ...), trimmers, pruners, orchard machines (also tracked), cutters for cutting grass, mixer feeders and many others.
In the construction sector wheeled loaders are the main application in which the installation of our joysticks is most frequent. However, we cannot forget to mention drilling machines, dumpers and skid steers.
In the forestry sector, cranes represent the main target, followed by wood cutters.
Collaboration with customers is essential @ Hydreco Hydraulics Italia. In fact, many significant innovations have been developed in collaboration with OEMs from various sectors. The aim is to identify the characteristics of new products and / or solutions that best match the needs of those who install them on their machinery and end users.
Hydreco Hydraulics Italia has in its DNA the technical capacity to adopt innovative solutions, which is why customer requests mainly focus on the design of customized solutions that delivers a high added value to their machine.
< Back to News