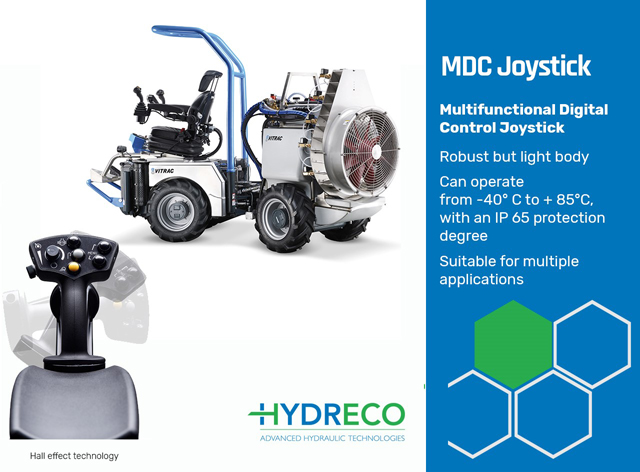 The MDC Joystick is an electro-proportional solution for the most sophisticated needs in multiple sectors: agriculture (telehandlers, tractors, special vehicles/attachments, ...), construction (mobile cranes, special excavators), forestry (timber cranes), material handling (loaders, reach stackers, fork lift trucks) and municipal (loaders and snow tracks). This model of joystick provides machine manufacturers with a robust, hard wearing solution as it features a PA66 body with glass fiber and a strong mechanical structure for long operating life. It operates between -40 and +85 °C (-40÷185°F) and it's featured by an IP65 protection.
The MDC joystick is available also on single axis execution and it can be configured as crossed version (combined movements inhibited).
Its electronics is based on SMD Hall effect technology, a well proven and very reliable solution.
The joystick layout provides long life operation, with an extremely robust design of the mechanical components, as well as an accurate development of the electronics. Voltage supply is between 9 and 32VDC.
It features closed-loop digital controlled outputs and theoutput versions include 0÷5V, PWM, CAN bus, Ratiometric. It's a user- friendly device, with the possibility of setting up the main parameters through a simple software interface provided by Hydreco.
It is made in Italy at Hydreco Hydraulics Italia in Vignola (Modena).
< Back to News