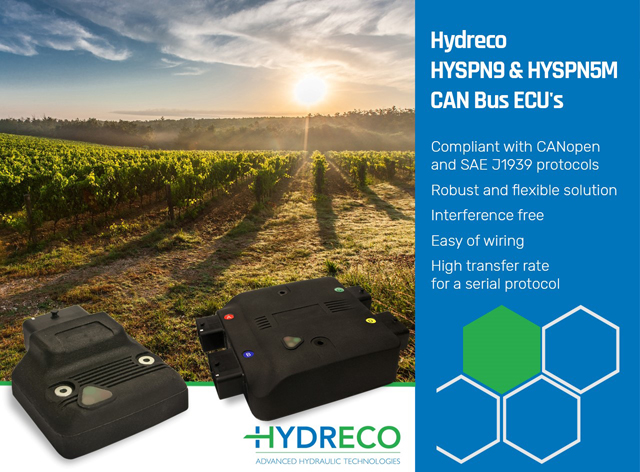 Hydreco HYSPN9 & HYSPN5M CAN Bus ECU's
The Hydreco CAN Bus system combines years of experience in the hydraulics market with the most advanced electronic control devices for mobile applications.
The system complies with CANopen and SAE J1939 standards and it is therefore compatible and expandable with all devices on the market that meet the requirements of those protocols.
Why the CAN Bus protocol?
CAN Bus is widely recognized as standard for feature as the interference free, easy of wiring (only two wires to connect all components) and the high transfer rate for a serial protocol.
All devices highlight the robustness and flexibility that Hydreco CAN Bus system provides,
with no compromise on reliability and safety critical environments.
How does it work?
The whole system is controlled by the ECU's (available in multiple sizes and configurations) that runs the control algorithm: the units receive information from sensors and other control devices (i.e. electro–proportional joysticks, electric pedals, GPS/GPRS modules, keypad and more), process them and send appropriate control signals to all electrical and electro-hydraulic actuators on the machine. One of the pluses of the Hydreco CAN Bus system is the Windows based programming environment which offers a unique and comprehensive tool for designing the entire system as per customer's specifications. The programming environment is also a very useful tool for diagnostics and start-up of the machine, since it allows control parameter changes, software download, and "real time" acquisition of all relevant signals on a personal computer via RS232 serial interface.
< Back to News