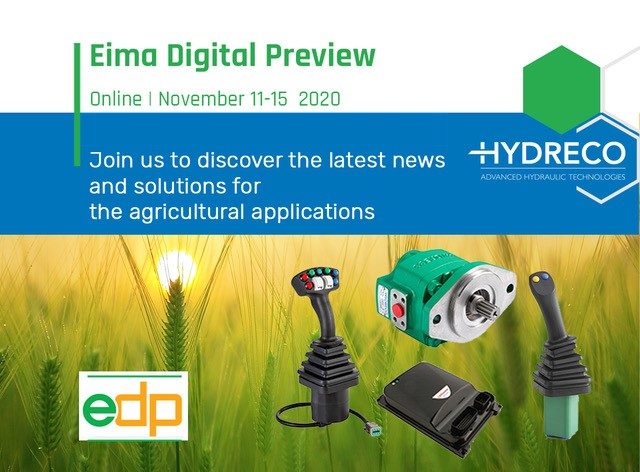 PRESS RELEASE 1/2020 - EIMA Digital Preview
PRESS RELEASE 1/2020
HYDRECO HYDRAULICS ITALIA PARTICIPATES IN EIMA DIGITAL PREVIEW (EDP)
The company belonging to the Duplomatic group - 23 employees, based in Vignola (Modena, Italy), specialized in the design and production of electro-hydraulic components for mobile operating machines, in particular in the agricultural and forestry sector, participates in the virtual reality preview of the international exhibition of mechanics agricultural.
Vignola (Modena), Italy – November, 11th 2020 - EIMA Digital Preview, which takes place from 11 to 15 November and which precedes the opening of the physical exhibition by almost three months, set at the Bologna exhibition center from 3 to 7 February, 2021, represents a pioneering event in the scenario of virtual exhibitions and constitutes an unprecedented experience with extraordinary potential.
Hydreco Hydraulics Italia participates in EDP and has set up its own virtual room, placing within it - in the three-dimensional spaces provided in the platform - the gallery of product ranges and new products, as well as information materials about the company.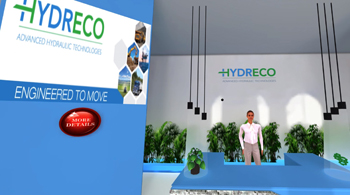 The presence at EIMA Digital Preview aims to offer an innovative promotional and business experience, offering visitors a virtual universe that presents Hydreco's offer and that can be explored effectively and immediately. The dedicated space allows you to make contact with visitors, operators and foreign delegations.
Next to the exhibition area, the digital platform provides a large section for cultural and communication initiatives, with a rich calendar of conventions, conferences and seminars, set up within a futuristic virtual stage, which can be followed live with a high level visual quality.
The EIMA Digital Preview platform is designed to facilitate access for foreign operators from each country: Hydreco Hydraulics Italia is available for meetings in its conference room.
Starting from the traditional range of hydraulic manipulators and pedipulators, the company has developed over the years an increasingly complete range of electric and electronic joysticks, able to meet the evolution of the market demand, which has increasingly turned towards sophisticated controls. and able to guarantee greater efficiency and precision. Today Hydreco Hydraulics Italia designs and supplies a wide range of solutions, which includes joysticks and hydraulic pedipulators, power supply units, joysticks and electric / electronic pedals and is also able to supply machine control systems based on the CANbus protocol, both from the point of hardware and software point of view.
The entry into the Duplomatic Group has created a strong synergy between the two companies, thus strengthening the ability to provide tailor-made solutions for a wide range of applications in the mobile and industrial sectors. The Hydreco Group offers hydraulic cylinders, gear pumps, control valves, joysticks and machine control systems for agricultural machinery, to offer customers the possibility of having a single supplier with which to manage orders and supplies. The advantages are savings and time savings, as well as a closer technological partnership that ensures the possibility of choosing the best solutions.
Agriculture, construction and forestry are the main sectors in which Hydreco is present with its products. As Davide Vaccina, managing director of Hydreco Hydraulics Italia, points out, "the main applications for Hydreco solutions in agriculture are vehicles and specialized accessories such as, for example, machines for harvesting olives, hazelnuts, trimmers, pruners, orchard machines, even track , cutters for cutting grass, mixer wagons and many others. "
Precision agriculture, agriculture 4.0 and IoT (the internet of things) are revolutionizing the sector. The digitization of the agricultural sector will become even more successful in the near future.
"Hydreco Hydraulics Italia has among its flagship products the range of joysticks and remote controls, which has seen the increasingly marked introduction of electrical and electronic solutions" - said Michele Guiati, managing director of the Italian company.
Product development was driven by the need for compactness and ergonomics, well represented in the new extremely compact on-off electric joystick, which uses Reed magnet technology and generates power output thanks to Mosfet transistors.
Hydreco Hydraulics Italia has also launched on the market a new electric-proportional joystick, based on Hall effect sensors, capable of generating various output modes, from analog to CAN, from PWM to ratiometric power.
***
Hydreco Hydraulics Italia is the Italian branch of Hydreco Hydraulics, based in Poole, Great Britain, acquired in 2019 by the Duplomatic Group, of Parabiago in the province of Milan, Italy. The group has a consolidated turnover of 114 million euros and 450 employees. Hydreco Hydraulics has a long and significant tradition in the sector of hydraulic components; For over a hundred years, Hydreco has been designing, manufacturing and distributing products for the transport and mobile hydraulics sector: with offices in Italy, Norway, Germany, USA, India and Australia, Hydreco has a worldwide production and sales network. www.hydreco.com
Press info: Sara Bernardelli, s.bernardelli@hydreco.com
< Back to News